Caniad's model, ethos and structure has been developed by a panel of people who have lived experience with mental health and substance misuse services and carers, across all six counties of North Wales.
Caniad's values are displayed on our Involvement Charter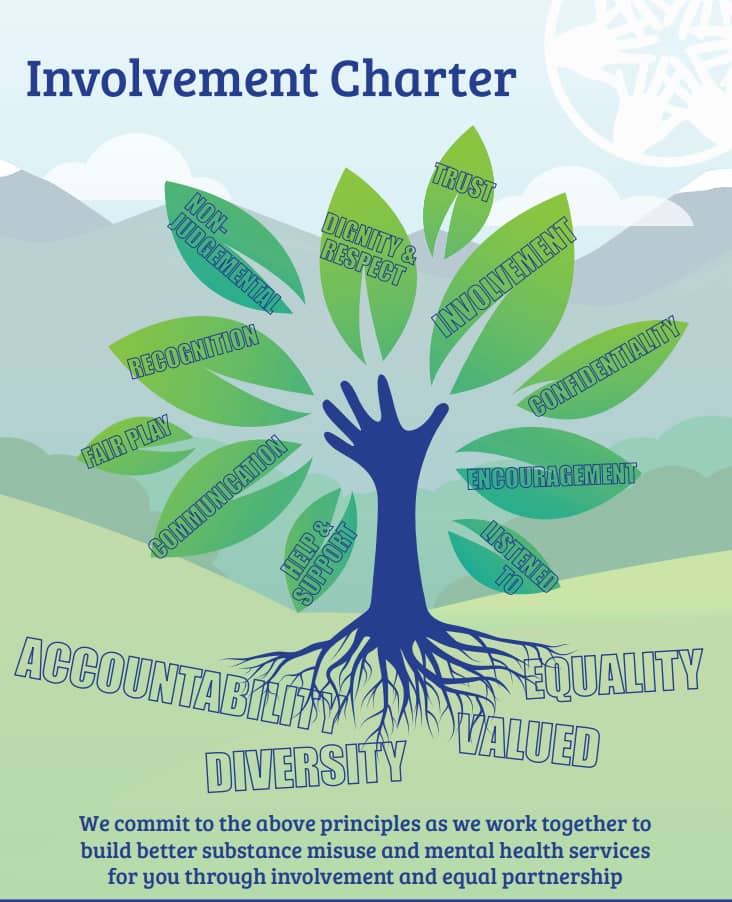 Caniad do not judge an individual on their past experiences, feedback or recommendations, each person is an individual and each person is free to be themselves.
With Caniad, everyone has the right to be treated with respect and dignity and we ensure to uphold this.
Caniad openly encourages service users and carers to be involved in the design and delivery of services.
Caniad builds professional relationships with our service users based on trust, and that the individual is at the centre of what we do.
At Caniad we believe communication is the most important factor in developing efficient and effective services. We maintain regular contact with our service users, carers, organisations and other services, and share information and provide support where needed.
Caniad involves service users and carers at all stages, from involving service users and carers in surveys and feedback through to volunteering roles. Involvement in the planning, development and improvement of services it our main goal.
As Caniad is service user and carer led, we listen to the feedback, recommendations and experiences of service users and carers to help shape and deliver mental health and substance misuse services.
Caniad helps and supports our service users and carers to reach their full potential, offering training and have strong links with a range of services in each area we operate in order to signpost efficiently to support services.
Caniad keeps all client information confidential and any feedback, recommendations, experience or personal details are kept anonymous
Caniad promotes fairness for all without discrimination. 
Caniad recognises the strengths of each individual and is encouraged to reach their full potential.
Caniad believes in accountability, not blaming.
Caniad promotes diversity and inclusivity in our service. We encourage underrepresented people with protected characteristics to be involved in shaping services.
Caniad values staff, service users and carers and their involvement in service design and delivery.
Caniad treats all individuals with equality in all areas of our work.